Phenology based on the GIMMS NDVI3g product
A 1/12-degree vegetation phenology product for the northern hemisphere (1982-2014)
Description:
(Update on November 29, 2021: The documentation is now added.)
Our vegetation phenology product consists of spring phenology and autumn phenology estimates with 1/12-degree spatial resolution for the northern hemisphere over the period 1982-2014. This product is derived from the latest GIMMS NDVI3g dataset, one of the most widely used NDVI datasets to monitor global vegetation. To ensure the quality of phenology results, some pre-processes were performed. The pixels with annual mean NDVI less than 0.1 were considered as non-vegetated areas and were excluded in phenology estimation. The Savizky-Golay filter was applied to the GIMMS NDVI3g dataset to minimize the noise before phenology estimation. Five phenology retrieval methods were used.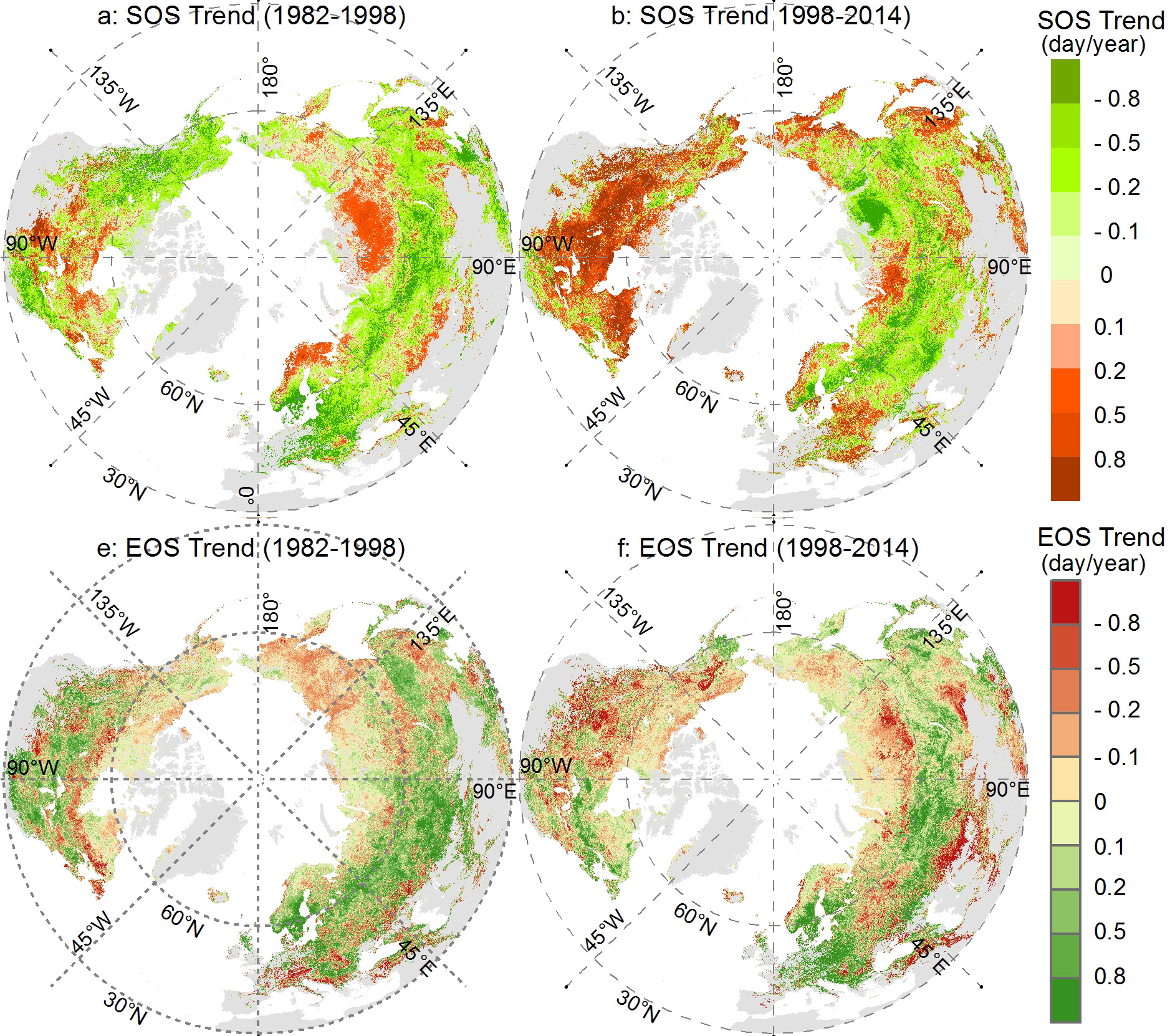 Citation:
Wang, X., Xiao, J., Li, X., Cheng, G., Ma, M., Zhu, G., Arain, M.A., Black, T.A., Jassal, R.S. (2019) No trends in spring and autumn phenology during the global warming hiatus. Nature Communications, 10, 2389. https://doi.org/10.1038/s41467-019-10235-8.
Metadata:
Spatial resolution: 1/12 degree                                  
Spatial extent: Northern Hemisphere (>30deg)
Temporal resolution: annual                                       
Temporal extent: 1982 -2014
Fair Data Use Policy:
We make this data product available to the research community as we believe that the dissemination of this data set will lead to advancement in science. If you plan to use our data in a manuscript or presentation, we request that you inform us at an early stage of your work. You should ensure that your research does not significantly overlap with what we are currently working on with this product. In addition, if this data set is essential to your work, or if an important result or finding depends on the GIMMS-Phenology data, co-authorship may be appropriate. You must inform us of your analysis and publication plans well in advance of submission of a paper, give us an opportunity to read and intellectually contribute to the manuscript, and, if appropriate, offer co-authorship.
Contact: Drs. Jingfeng Xiao and Xufeng Wang.
Download phenology data:
Please read the fair data use policy above before you download the data. This data set is available at the Global Ecology Data Repository (Download phenology data).